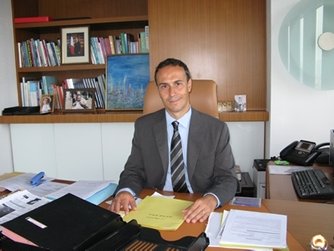 Hong Kong
- France's top diplomat in Hong Kong has been suspended and recalled to
Paris
to be investigated over his conduct, a government-run radio station said Friday.
Consul General Marc Fonbaustier, 46, was suspended over behaviour that would "likely not meet the requirements of professional conduct for a French diplomat," RTHK reported.
Quoting a Foreign Affairs Ministry official in Paris, the radio station said Fonbaustier, who is married with three children and has been in Hong Kong since 2009, left the former British colony Monday.
The official was quoted as saying the consul general had been suspended from duty while an investigation was conducted. No details of the alleged misconduct were given.
There was no immediate response from the French consulate in Hong Kong. However, a notice on its
website
announced Fonbaustier had left his post and returned to Paris because of "an emergency."
Deputy Consul General Agnes Humrazian would take over his duties, the notice said. It gave no details of the reason for Fonbaustier's departure.
(adapted from Earth Times)